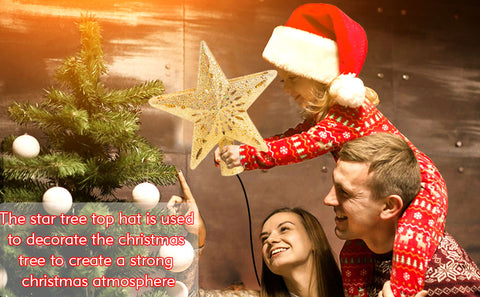 Light up your holiday season with an explosion of radiant color or shimmering snowflakes, when you place our Christmas Tree Topper Projector atop your tree this Christmas!
Are you still undecided about what ornament will adorn the top of your Christmas tree this year? Add a bit of elegance and opulence to any style Christmas tree, when you use the Christmas Tree Topper Projector to put the finishing touch on your Christmas decor. Featuring a hollow interior, with either a glittery gold or silver finish, this star-shaped tree topper is the perfect addition to enhance your seasonal decor.
You'll be delighted and amazed as you watch this captivating tree topper project sparkling beams of light onto the ceiling and surrounding walls. With its dazzling LED lights, discreetly hidden inside of the built-in rotating snowflake projection lamp, it's sure to be a sensation! Watch in amazement as it illuminates your family's living space with a shimmering light show, this holiday season.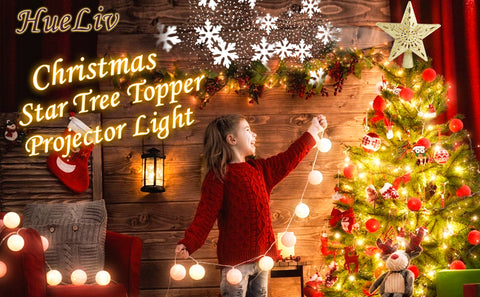 Why It's A Must-Have This Holiday Season!
Adds A Little Christmas Cheer-

 

Specially designed with a built-in snowflake projector, this unique star tree topper projects high-definition snowflakes and colorfully illuminated patterns. Spread holiday cheer with lovely shimmering snowflakes, as they dance all over the ceiling in your house!
The Perfect Size Topper-

 

Ideal for any style tree, the universal size looks great when placed on a sturdy vertical bow. It's the perfect way to enjoy swirling snowflakes all season long!
This Christmas Star Serves A Dual Purpose-

 

Christmas Tree Topper or Christmas Light, the Christmas Tree Topper Projector can be mounted easily on atop your tree or used simply as a holiday light decoration!
Easy to Assemble-

 

Featuring a stable cone-shaped base, it can be placed at the top or on the side of your tree, and your decorating is done!
Product Specifications:
Size-

 

9.8 x 9.4 x 2.4 inches
Material-

 

PVC and LED lights
Certification-

 

UL
Package include:
1* Topper Projector